Trailers for vans and passenger cars
Our offer includes a wide selection of car trailers of all types. It is also possible to make a trailer for individual orders. Thanks to mobile approval, we select the GVM of the trailer for the car - the cars with which it will be towed. We are approved for trailers with a GVM (permissible total weight) up to 3500 kilograms.
Car trailer equipment
Our contractors can configure their own trailer.
By downloading the price lists below.
The price lists contain detailed descriptions of the standard equipment of the trailer and what we offer as optional equipment.
If you want us to configure the perfect trailer for you, write to us or call us. Give us some guidelines and we will select a trailer for you and send you an offer.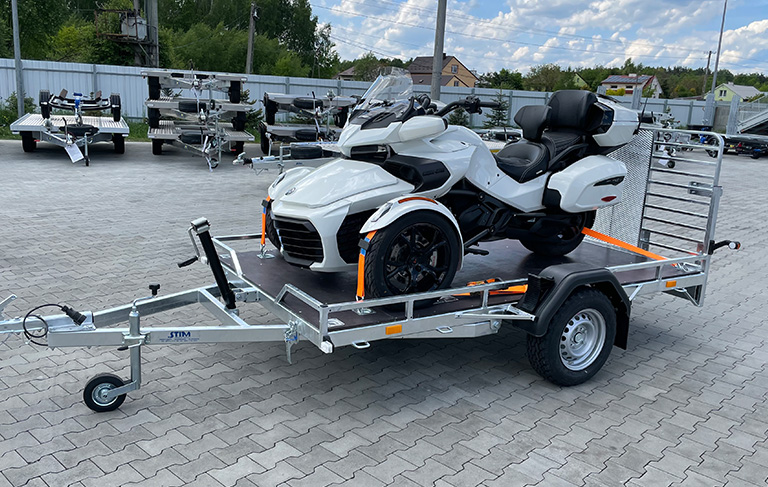 Types of car trailers
From the beginning of our activity, we have managed to create a rich assortment. Our offer includes car trailers of the following categories:
single axle trailers with and without a brake,
two-axle trailers with and without a brake,
three-axle trailers with brakes
forwarding trailers,
trailers for transporting construction equipment,
trailers for power generators,
tipper trailers,
horse trailers,
trailers for transporting jet skis, boats, quads, motorcycles, swimming pools,
car transport trailers (steel or aluminum carriages),
isothermal, cable, box-type trailers, for mobile advertising,
trailers for transporting long elements,
specialized trailers.
The services we offer
Based on our experience and knowledge, we have developed comprehensive services for you. We offer a full service of car trailers. We employ a qualified team of professionals to carry out our clients' orders at the highest level. We make all repairs with the use of professional equipment as well as parts and components from well-known and respected manufacturers.
Car trailer service.
Out of concern for the highest standards of service, we made sure that the services offered were comprehensive. Therefore, we undertake repairs of trailers, regardless of the type of defect or failure. We carry out service works in the field of:
regeneration of overrun devices for trailers with a DMC up to 3500 kg,
regeneration of axles for trailers with a DMC up to 3500 kg,
adjustment of braking systems
replacement of brake shoes
turning / replacing brake drums
axle bearing replacement,
tarpaulin repairs
comprehensive service of trailers up to 3.5 tons
repair electrics of trailers up to 3.5 tons.
The scope of additional services
welding (in CO2 shield),
locksmiths,
reconstruction of loading boxes (sides, container structures, doors),
structural reconstruction in order to change the purpose of the vehicle with the required documents,
galvanizing of structures,
sale of parts
We invite both individuals and companies to use our services. Therefore, if your car trailer has broken down, worn out, requires reconstruction or maintenance, please contact us. We perform all service works in a timely and reliable manner. We guarantee that the trailers that are entrusted to us regain their full functionality for many years.